You can see art for sale at our online store
Do you have pictures of the restaurant mural in Austin? Please send us a copy here!
HISTORY OF THE MURAL ON THE SOUND EXCHANGE MUSIC STORE 1994-2013
Article as far back as 1995 describing the iconic status of the mural:
http://www.trikont.de/english/text/johnston_0271_critique.html
1996 naming it "Austin's Best Graffiti / Mural":
http://www.austinchronicle.com/issues/annual/bestof/96/readers/boa96.R.arch.html
How about an entire paper on the subject of Austin murals, featuring the Hi How Are You mural.
http://www.ar.utexas.edu/planning/forum/vol4_5pdfs/Image%20of%20the%20City.pdf
How about some poetry on the subject?
http://www.austinslam.com/98nationals/opening.htm
Okay - CitySearch.com will help visitors to the city find the location of the mural!!
http://austin.citysearch.com/review/11542970/editorial/
Nominated in 2001 for Austin's "Best Cheap Seats / Free Art"
http://austin.citysearch.com/profile/11542970
and included in the city's visual archives on :
ooops!! Where did that URL go? Be back later with it....
Readers Poll:
Architecture


Sound Exchange -- Daniel Johnston, Hi How Are You It says something about a city when over 50 different works (mostly murals) are given votes in this category. Not long after the unveiling of the masterpiece, a local graffiti-removal firm solicited Sound Exchange to help with their "problem" on the south wall. In a stunning upset, the alien frog which has become synonymous with the life, the work, and hard times of Austin passer-through Daniel Johnston, has overtaken the mighty Varsity/Tower mural on 24th. 21st & Guadalupe, 476-2274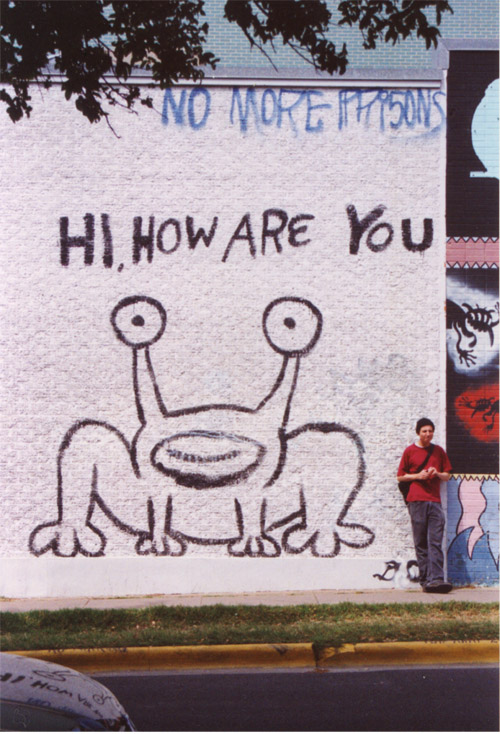 photo courtesy of Keith Cheek
See also http://lovitt.net/gallery.php?GalleryID=7 for picture.
http://austin.buffaloimc.org:8080/newswire/display_any/15299
http://www.news8austin.com/content/top_stories/default.asp?ArID=94269
http://www.news8austin.com/content/top_stories/default.asp?ArID=94366
Courtesy of http:/lovitt.net ( http://lovitt.net/photo.php?GalleryID=7&PhotoID=1940 )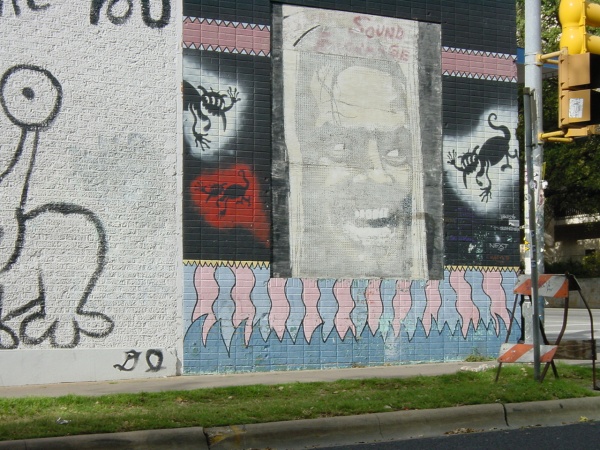 Other art that used to accompany the mural on the Sound Exchange store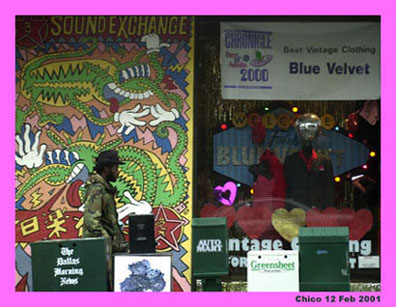 More art on the front of the Sound Exchange store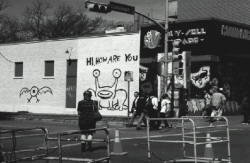 An old shot of the Sound Exchange music store