Back To Mine
Release Date: 2007-10-07
Label: Exercise 1 Records LAP
Formats: LP
Studio/Live: Various
Guillemots chose favorite tunes for an LP compilation: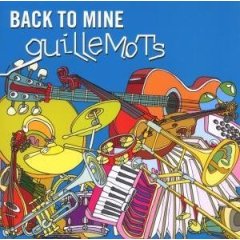 1. Sonic Youth - Providence
2. Roots Manuva - Witness (1 Hope)
3. Fourtet - A Joy
4. Joan As Police Woman - The Ride
5. Esther Phillips - And I Love Him
6. Daniel Johnston - Speeding Motorcycle
7. Kenickie - I Would Fix You
8. Tartit - Eha Ehenia
9. Bjork - All Neon Like
10. Amon Tobin - Reanimator
11. Charles Mingus - Tensions
12. The Supremes - My World Is Empty Without You
13. Liars - The Other Side Of Mt. Heart Attack
14. Cartola - Preciso Me Encontrar
15. Raphael Saadiq - Still Ray
16. Buffalo Springfield - Expecting To Fly
17. Sandy Denny - No End (Solo Piano Version)
Music Review
22 October 2007 18:56 BST
Guillemots: Back to Mine (Volume 27)
Monday, 08 Oct 2007 11:08
DMC, out October 8th, 2007





In a nutshell...

After-Hours Grooving, Chilled, Eclectic

What's it all about?

It's the turn of the Guillemots to pick their favourite tunes for the acclaimed Back to Mine series. Following in the footsteps of acts such as Bugz in the Attic, Royksopp, Mercury Rev, Underworld and Groove Armada, the Guillemots have chosen 17 tracks for this after-hours session. Picking from personal favourites, influences and sentimental tunes, the album offers a vast array of differing tracks covering pretty much every spectrum of music possible. The tracks include an eclectic mix of thumping dance tunes, Brazilian flamenco guitar and 1960s Jazz. There is music by the legendary Supremes sitting side by side tunes from 90s indie band Kenickie, contributions from Hip Hop artists such as Roots Manuva and experimental inclusions from Sonic Youth and others. This a collection of songs aimed at both winding your evening down and at the same time keeping the party going through the night.

Who's it by?

The Guillemots formed in 2004 and their debut album, Through the Windowpane, was released in July 2006 to critical acclaim. The album was nominated for the 2006 Mercury Music Prize, eventually losing out to the Artic Monkeys while the band was nominated for Best Live Act at the 2007 Brit Awards, losing out to Muse. The band consists of four permanent members, Fyfe Dangerfield, MC Lord Magrao, Aristazabal Hawkes, and Greig Stewart and are currently signed to Polydor Records. The Guillemots are renowned for their quirky, experimental music and enthusiastic live performances.

As an example...

"Speedy Motorcycle, don't you drive recklessly/Speedy motorcycle, of my heart/Many girls have taken you for a ride, cut you deep inside/But you never slow down' - Daniel Johnston: Speedy Motorcycle

Likelihood of a trip to the Grammys

Fans of the Guillemots will be intrigued to discover what tracks the band has chosen for the after-hours compilation whilst for hardcore collectors of the series, it's a must. The album probably won't find mainstream success but don't be surprised to find it being played at the next house party you attend.

What the others say

"Another band get round to showing us how cool their record collections are. And let's be fair; while Guillemots themselves may be a distinctly middling outfit, if this is an accurate approximation of what they actually listen to at home, then we're very impressed." – NME

"All in all a really interesting listen – even if you're not bothered about listening to Guillemots, let alone who influenced them, this CD will expand your musical knowledge and listening repertoire without doubt." - StudentDirect

So is it any good?

In the album notes of this 27th volume of the Back to Mine series, when describing the inclusion of a Liars track, the Guillemots claim "They experiment, they look in different directions, pushing themselves to create new sound that are not genre specific". This not only totally sums up the outlook they themselves have on music but is quite obviously what they have tried to produce in this compilation. The series is based on artists' favourite post-night out tunes and it would appear that the Guillemots like to listen to a hugely varied spectrum of music when they get home.

There is some extraordinary music here and definitely songs that you will never have heard of before. The band have chosen from all corners of the globe with music from Tarit and Cartola as well as more popular artists such as Bjork, Fourtet and Roots Manuva and they've even had time to pick a tune reminding us that Lauren Laverne actually helped produce some pretty impressive music back in the 90's before she started snuggling up to teenage bands on sofas for late night television.

The album gets off to a fairly heavy and electronic start before been calmed right back down with the fantastic Joan as Police Woman and the beautiful voice of Esther Philips covering the Beatles And I Love Him.

Daniel Johnston's Speeding Motorcycle is almost indescribable and is a marked contrast with everything else of the album. The song is totally amateurish but utterly engaging. It is quite unbelievably innocent and actually sounds like something created on a £10 keyboard by an 8 year old in their kitchen, however it totally works and it fits brilliantly into this compilation. The song is truly bizarre but its inclusion is no surprise coming from a band as experimental as the Guillemots and is probably the most telling song on the album, a perfect example of a song you're likely never to have heard of.

The quieter tunes in the compilation outnumber the heavier tracks quiet considerably and had the band gone all out with the come-down music and excluded Fourtet and Amon Tobin for example, the album would have been a definite success as a chill out collection. However the Back to Mine series are all about 'after-hours grooving' and so we end up with a few loud aggressive tracks sandwiched between interesting, eclectic and fascinating music spanning decades and continents. The listener's experience of the album will totally depend on their musical preferences, there are tunes here that will captivate most, but the collection is so varied you may find yourself skipping over tracks you truly can't stand to find something more to your taste.

That unfortunately is the problem. The mark of a good album is the fact that you are never tempted to skip any track to find the songs you like and regrettably the complication suffers from this problem. The tracks are ultimately too diverse to come together in a neat cohesion. The Guillemots appear to have been stuck in two minds whether to create a mellow chill-out compilation or a collection of tunes to keep your party going through the night.

The album is a collection of songs that have inspired, excited, intrigued and carry some form of sentiment for the Guillemots, there is some fascinating music here, just be ready to skip the next song when it clashes with your mood.