FEATURED NEWS 2009
ARCHIVE FEATURED NEWS
CURRENT 2014 &nbsp 2011 2010 2009 2008 2007
2006b Jan-June 2006a July-Dec 2005c Sept-Dec
2005b Jan-June 2005a Jan-Apr 2004d Sept-Dec
2004c June-Sept 2004b Feb-May 2004a Jan
2003b Sept-Dec 2003a Jan-Sept
2009-December
| | |
| --- | --- |
| | Singer, songwriter, Vic Chesnutt dies - see full story here. |
This LINK accepts donations on behalf of Vic's family.

New levels available for HiHowAreYou game www.HiHowAreYouGame.com
The game has been updated and now contains 33 levels!
The game (developed by Peter Franco and Steve Broumley) continues to get rave ratings!
twitter.com/hihowareyougame
Hi, How Are You on FACEBOOK
Two outstanding reviews of Jason Nodler's rock opera "Life Is Happy And Sad"; last show is December 21st!
The Houstonist: "Life is Happy & Sad: A Roller Coaster of Artistic Anguish from The Catastrophic Theater"
Houston Chronicle
2009-November
"IS AND ALWAYS WAS"


(latest album release by Daniel, produced by Jason Falkner)


12" VINYL RELEASE
contains the bonus track "Shoe"
Available in our STORE



SPECIAL EVENTS FOR FRIDAY - NOVEMBER 20

- Celebrating the VINYL release of "Is and Always Was"
(Vinyl release of the album includes a new track "Shoe")
Adjustable Productions are currently offering the Region 2 version of 'The Angel and Daniel Johnston...' the DVD of Daniel's acclaimed 2007 performance in London, on promotion from £8.99 delivered. Please visit http://www.angelanddaniel.com/EuropePromo.html to take advantage of this offer
Austin, Texas - Friday November 20th
5 pm - In-store at Waterloo Records, Austin, TX
7 pm -
Special evening with Daniel Johnston and Will Taylor & Strings Attached.
St. David's Episcopalian Church, Austin, TX
2009-October
Jason Nodler announces another ROCK OPERA based on Daniel's music


"Life Is Happy and Sad"

Catastrophic Theatre


(Houston, Texas)



LIFE IS HAPPY AND SAD previews Wednesday, December 2 and plays December 3, 4, 5, 9, 10, 11, 12, 16, 17, 18 and 19 at DiverseWorks ArtSpace, 1117 East Freeway. All performances begin at 8pm


Daniel's art exhibits at HEIDIGALERIE, Nantes, France December 3 - January 13 see ART EXHIBITS

Documentary on the music
in

Where The Wild Things Are


Daniel's song "Worried Shoes"
as performed by Karen O of the Yeah Yeah Yeahs
is featured in the new movie
2009-September
Dr Fun Fun releases "Hi How Are You" iPhone game!
PRESS RELEASE
AUSTIN, Texas – (September 24, 2009) – "Hi, How Are You" the first ever toon-shaded 3D puzzle platformer for the iPhone and iPod Touch, is now available in the Apple App Store. The game features dynamic, physics-driven gameplay and is set in a psychedelic universe filled with the art, music, and iconic themes of renowned indie artist Daniel Johnston
NYTimes article:



"A Brain on Fire, spreading to phones"
RANDY KENNEDY
Sept 28, 2009
Does Daniel like the iPhone game?

See more pictures HERE

Daniel's "Worried Shoes" covered by Karen O And The Kids is on the Where The Wild Things Are soundtrack.

Listen to it at FLAVORWIRE
November 7th show in Cardiff has been CANCELED (SEE TOUR DATES) - our apologies; this was beyond our control! We've opened a 2nd night in LEEDS to replace the Cardiff show - so if you've been turned away because the LEEDS show was SOLD OUT, check again for tickets for November 7th!
MIDNIGHT SHOW in LIVERPOOL added on November 3rd!
Second LONDON show added October 31st!
2009-August
Kurt Cobain character in Guitar Hero 5 is wearing Daniel's t-shirt
(to be released Sept 1st)





s

e

e

a

l

s

o:
Courtney Love Threatens to Sue over Kurt Cobain's Guitar Hero Character



Commentary: The only real "problem" with the gaming Cobain virtual character might be that in the game, you can put him on stage with other bizarre CG characters and have him sing wimpy songs to where the visual result looks a little silly. Other stars or look a-likes are in the game - the character itself is as tasteful as you can get for a computer generated image. The furor appears to driven by a religiously saint-ified status given to the memory of Kurt by some, or a categorical distain for Courtney, or both.




CD cover





LP cover

"Is and Always Was"

Daniel announces the release of a new album in October. Produced by Jason Falkner, it will be available worldwide digitally as well as CD, LP, and EP singles.

PRESS RELEASE


Links to articles on the album:






8MB Quicktime
Cute commercial from Turkey "Turkcell" that features Daniel's "Keep Punching Joe" shirt.

MORE VIDEOS / COMMERCIAL under
VIDEOS
2009-July
Watch for the upcoming release of iPhone game featuring Daniel's art characters and music!

Daniel working with Jason Falkner on a new album "Is And Always Was" to be released October 2009.

Daniel signs on for several strings of U.S. Canada shows, U.K. shows, and a rehearsal concert in Holland with B.E.A.M. orchestra. See TOUR DATES



Daniel with Jason Falkner, May 2009
2009-June
See new FAN TATOOS of Daniel and Daniel art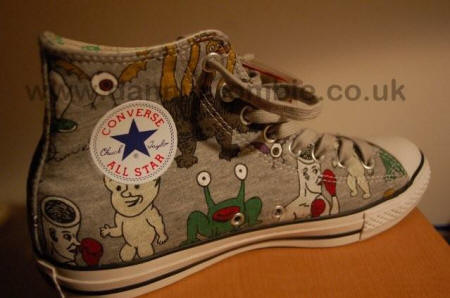 Rare photo of the NOT to be released CONVERSE "WORRIED SHOE"
FULL ARTICLE HERE
2009-April
Daniel Johnston to perform at the ACL Festival
Friday, October 2, 2009
See the

FULL LINEUP

ONLY SINGLE DAY TICKETS REMAIN AVAILABLE
2009-March
Daniel will do a book signing for the convention Center for the new art book in Austin, Saturday, March 21st
Daniel will perform at Emo's for SxSW on Saturday, March 21st.
NEWS:
ATP LAUNCHES FILM AT SXSW - featuring Daniel clips
NEWS:
Catastrophic Theatre's Jason Nodler works on new Rock Opera
NEWS: Breaking news on upcoming Daniel Johnston biopic
2009-February
Daniel Johnston

Rizzoli Publication releases Daniel's first published ART BOOK


Texts by Philippe Vergne, Jad Fair, and Harvey Pekar

Interview with Daniel Johnston

356 pages / 9" x 11" / 250 color illustrations

HC with Jacket: ISBN: 978-0-8478-3149-4

$50.00 US / $57.50 CAN / £27.50 UK

Release date: February/March 2009

Buy it at Amazon.com

Buy it from Daniel at RejectedUnknown.com web store

Buy it from Daniel at HiHowAreyou.com web store


Jeff Gordon includes this Daniel Johnston PRINT and a CD of Daniel's songs along with an recorded interview with Daniel in Jeff's latest compilation of prominent VISUAL and SOUND artists. Four PRINTS and seven CDs are included in the set as featured in the "Crossing The Line" exhibition that took place at the June Kelly Gallery, Soho, NY from June 21 through August 1, 2008.
You can still get this limited edition compilation at www.artvoices.org
Stephen Tompkin's production of 13 videos of Daniel performing AT HOME in Waller, Texas in 1999.

You can buy and download the videos at


www.DanielJohnstonLive.com
2009-January
N.E. U.S. tour dates UPDATED for February and April 2008 - see TOUR DATES
<< NEWER Featured News
OLDER Featured News >>