Songs From Radio K - stuck on AM 6
Release Date: 2008
Label: Exercise 1 Records LAP
Formats: CD
Studio/Live: Various
Songs From Radio K - Stuck on AM 6
A compilation of artist from the student-run University Of Minnesota radio
The song by Daniel is from a live studio recording done by Daniel at Radio K studios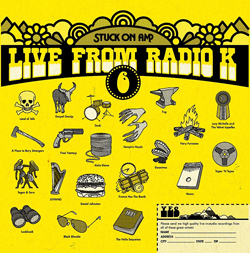 01 Doomtree: "Drumsticks"
02 Dosh: "Improv #1"
03 Final Fantasy: "Flare Gun"
04 The Fiery Furnaces: "Duplexes of the Dead" / "Automatic Husband" / "Ex-Guru"
05 Daniel Johnston: "American Dream"
06 Land of Talk: "Speak to Me Bones"
07 France Has the Bomb: "Cold Hands"
08 STNNNG: "Slow Water"
09 A Place to Bury Strangers: "To Fix the Gash in Your Head"
10 Lookbook: "Over and Over"
11 The Helio Sequence: "Hallelujah"
12 Tapes 'n Tapes: "George Michael"
13 Lucy Michelle and the Velvet Lapelles: "Connect the Dots"
14 Nomo: "Three Shades"
15 Black Blondie: "For the Taste"
16 Tegan and Sara: "Back in Your Head"
17 Alela Diane: "Pieces of String"
18 Gospel Gossip: "Big Steer
19 Vampire Hands: "No Fun"
20 Fog: "Under a Anvil Tree"

Along with Tapes 'n Tapes, Tegan and Sara, Land of Talk, Nomo, Dosh, Fog
Radio K, the student-run radio station of the University of Minnesota, is currently in the thick of its annual fund drive. But rather than goad Golden Gophers into giving with, like, Ken Burns VHS box sets or something, they're offering donors a crack at a very cool compilation of live tracks from some top-shelf artists set to tape in the Radio K studios.

The likes of the Fiery Furnaces, Daniel Johnston, Final Fantasy, A Place to Bury Strangers, Tegan and Sara, Land of Talk, the Helio Sequence, Nomo, and Alela Diane join Twin Cities locals Fog, Tapes 'n Tapes, Dosh, and others on the Live From Radio K: Stuck On AM 6 CD. Those who pony up the dough can get the set-- as well as guilt-free radio 'til the next fund drive rolls around-- through the station's website right now.

If you're in the area, swing by Minneapolis' First Avenue tonight (October 8) for a Radio K 15th anniversary show featuring Low, Dosh, and more.