DANFEST 2006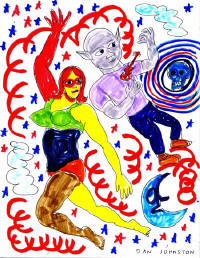 "DanFest 2006" Timed with movie release
April 21, 2006 - Wilmington, DE

Local artist, writer, and musician Henry Long announces an art exhibit and film forum in Wilmington to coincide with the release of the film documentary "The Devil And Daniel Johnston."

The feature-length (109 minutes) movie by director Jeff Feuerzeig and producer Henry Rosenthal documents the life and career of indie singer, songwriter, artist Daniel Johnston.

The film appeared at the 2005 Sun Sundance film festival and was licensed for release in North America by Sony Pictures Classic, and began appearing in theaters March 31st. It begins showing in Wilmington at Theatre N on May 19.

"The Devil and Daniel Johnston" movie times at Theatre N, Wilmington, Delaware
Friday May 19th at 2pm & 8pm.
Saturday May 20 at 2pm, 5pm & 8pm.
Sunday May 21st at 2pm & 5pm.

Embellished by Mr Johnston's own crudely performed yet ingenious music, the movie draws upon astounding home video, cassette tape recordings, and interviews to re-create the tumultuous life of the talented but chronically mentally ill young Daniel Johnston. Now 45 years old, Daniel finally moved into his own home just a few months ago, after spending most of his life (when not institutionalized) living at home with his aging parents who are now 84 and 85 years old.

Having enjoyed intermittent public attention, the scope of Daniel's popularity has grown considerably in recent years.

Henry Long, a long time fan and outspoken advocate for Daniel Johnston's art and music, undertook a special celebration of the artist when news of the movie release in Wilmington was heard.

The art exhibit "Henry Long's Daniel Johnston Collection" will feature the visual art of Daniel Johnston at Nemours Building (11th and Tatnall Street, Wilmington, Delaware) during May beginning May 5th from 5 pm to 8:30 pm. The exhibit will display art collected by Mr Long, and have for sale Mr Johnston's music CDs and shirts. Daniel Johnston's shirts have world-wide popularity, as attested by the late Kurt Cobain who was photographed regularly with the "Hi How Are You" t-shirt by Daniel.

The exhibit will be featured on the May Art Loop, and is in the Wilmington Art-On-The-Town Guide.

The second activity planned is a Question and Answer forum following the 8 pm showing of the movie at Theatre N on May 20th. It will feature an audience participation forum moderated by Mr Long, the playing of Daniel Johnston's latest album "Welcome To My World" and the sale of CDs and t-shirts.

For more information, contact Henry long at [email protected] .

You can call Theatre N at 302-571-4699 or check www.theatren.org for advance tickets.