Dr Fun Fun HI HOW ARE YOU iPhone Game Press Release
<![if !vml]>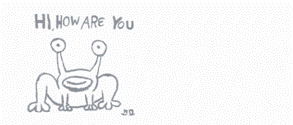 <![endif]><![if !vml]>

<![endif]><![if !vml]>

<![endif]>
FOR IMMEDIATE RELEASE
The Quirky World of Indie Musician and Pop Artist
Daniel Johnston Comes to Life on the iPhone
Dr. Fun Fun, Smashing Studios Collaborate on Intriguing iPhone Puzzler
AUSTIN, Texas – (September 24, 2009) – "Hi, How Are You" the first ever toon-shaded 3D puzzle platformer for the iPhone and iPod Touch, is now available in the Apple App Store. The game features dynamic, physics-driven gameplay and is set in a psychedelic universe filled with the art, music, and iconic themes of renowned indie artist Daniel Johnston.
"Hi, How Are You" begins with Satan turning the innocent Jeremiah into a frog and stealing the object of his affection. To win back his true love's freedom, Jeremiah must progress through 25+ devilish levels to reverse the curse that Satan has bestowed upon him.
While racing through mazes, Jeremiah evolves into four different characters, each with a unique play style. The game can be controlled by using either intuitive tilt controls, or by using a virtual on-screen joystick. More than 20 achievements can be unlocked throughout the game, revealing Daniel's original artwork. Achievements can also be shared automatically with friends on Facebook – taking bragging rights to a whole new social level.
Daniel Johnston's music has been critically acclaimed for his original and evocative style. He has been dubbed "the Godfather of lo-fi" and has acquired legions of fans including legends such as David Bowie, Tom Waits, Beck and the late Kurt Cobain, who famously wore Daniel's "Hi, How Are You" frog t-shirts in concert.
Johnston's art has been featured in prestigious art galleries throughout the world, including the Whitney Museum of Art where he was a featured artist in their famous Biennial exhibition. Here he was referred to as "one of the most creative contemporary artists in the world."
"Hi, How Are You," the game was created in collaboration by developers Dr. Fun Fun and Smashing Studios.
The game is available for a special, limited time, introductory price of $0.99 through the Apple iTunes App Store.
For more information about Daniel Johnston, his original music and artwork, please visit www.HiHowAreYou.com or his fan site www.RejectedUnknown.com.
For more information about the game please visit:
Screenshots can be downloaded here:
http://bohle.filefurst.com/Hi_How_Are_You_screenshots.zip
Note:
There is no question mark at the end of Johnston's famous line "Hi, How Are You." This is his Johnston's veritable trademark; his greeting to all.
Media Contact:
Luis Levy
The Bohle Company
Google Voice: (424) 229-2178
Or (310) 785-0515, Ext. 204
Links with pictures:
http://www.pocketgamer.co.uk/r/iPhone/Hi%2C+How+Are+You/feature.asp?c=16010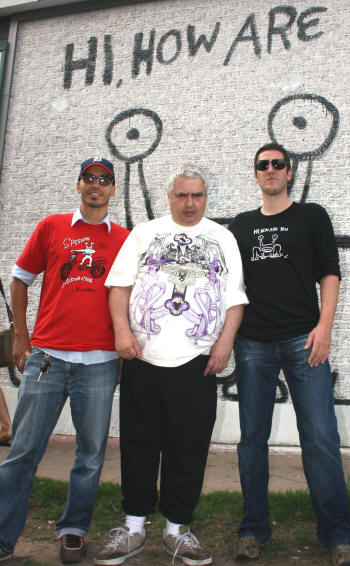 click to enlarge, then right click - save as to save
Daniel Johnston with iPhone app developers Peter Franco (left) and Steve Broumley in front of the Austin, Texas Mural painted by Daniel in 1994.

Photo by Dick Johnston - may be used without permission with acknowledgements