FEATURED NEWS 2010
ARCHIVE FEATURED NEWS
CURRENT 2014 &nbsp 2011 2010 2009 2008 2007
2006b Jan-June 2006a July-Dec 2005c Sept-Dec
2005b Jan-June 2005a Jan-Apr 2004d Sept-Dec
2004c June-Sept 2004b Feb-May 2004a Jan
2003b Sept-Dec 2003a Jan-Sept
2010-December
2010-November


Hi How Are You iPhone / iPad game
Daniel sees the Converse "Worried Shoes" for the first time.

Converse licensed Daniel's art for the shoe, paid for the licensing, but canceled the line before it went to production. Perhaps a dozen pairs WERE made, though, and they show up around the world from time to time. This pair was sent to Daniel thanks to Christopher Altenburg (our honorary MEMBER OF THE MONTH). More photos under FAN PHOTOS
Daniel at Ghoulfest in Houston, Texas
on stage with his manager from the 90's (who still does some manager) Tom Gimbel.

More photos under TOUR NEWS
2010-October
Story Of An Artist
RADIO SERIES

hosted by
Brett Hartenbach

Daniel Johnston RADIO SERIES starts


"Story Of An Artist" - The Daniel Johnston Legacy




We are pleased to announce the kick-off of a new 50 minute radio program series which is available for broadcast IMMEDIATELY. The site is open to the public for listening of the CURRENT PROGRAM RELEASE http://www.radio.hihowareyou.com


Station program managers and dj's may REGISTER to gain access to the full radio series as they become available, and for other features to be enabled over the next few weeks.


The site is being launched in a primitive state, but very soon will include features that allow registered users to add their programming times for the series to a PROGRAM LOG, access promotional spots, make requests for custom spots, and to download Daniel's full music catalogue for air play.
2010-September
Waller, Texas - Thursday, September 16, 2010 - Daniel Johnston's mother, Mabel Johnston, passed away Thursday afternoon at her home in Waller, Texas, surrounded by family. The funeral was at the church of Christ in Katy, Texas on Sept 19th. Thanks you for your many expressions of sympathy to the family.
2010-August
2010-July
Watch for the upcoming iPad version of the Hi, How Are You iPhone game
twitter.com/hihowareyougame Hi, How Are You on FACEBOOK
2010-June
Long Beach, CA - Arts & Services For Disabled, Inc is performing a short play called "Adventures In L.A." based on Daniel Johnston's art and music.

Thursday, June 24. 12 PM at Grace Presbyterian Church, 3955 Studebaker Rd, Long Beach, CA 90808.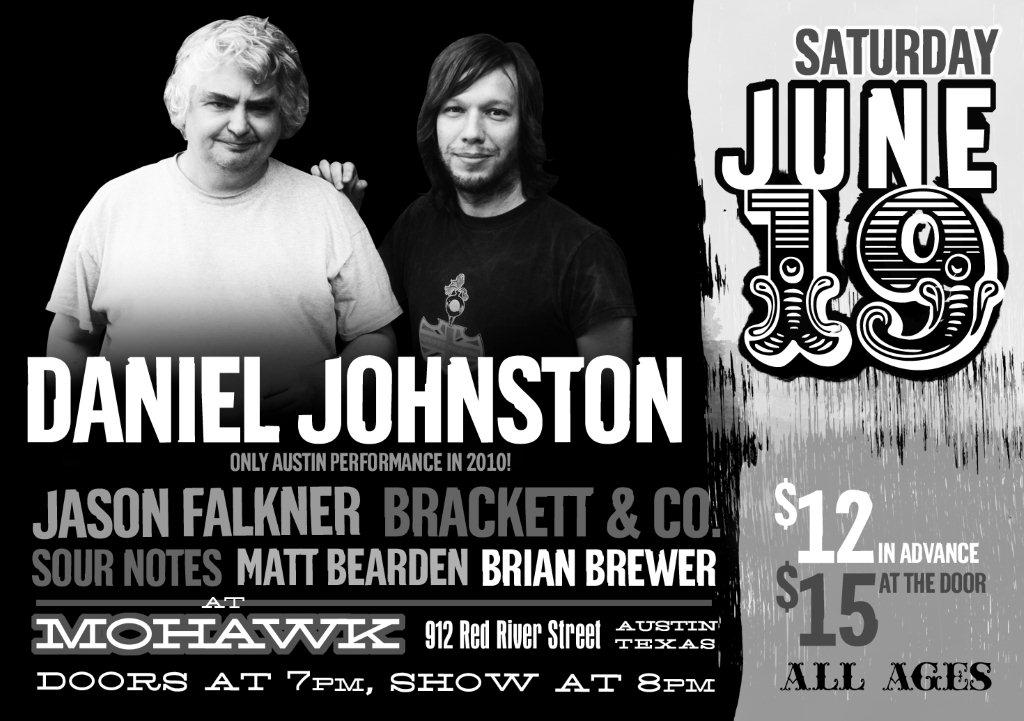 Daniel Johnston and Jason Falkner (of Jellyfish fame, producer of Daniel's last album "Is and Always Was")
with Brackett & Co and Brian Brewer
hosted by Matt Bearden
Saturday, June 19
Austin, Texas at The Mohawk
Doors at 7 pm
TICKETS
2010-May
Daniel at ATP Festival 2010
Butlins, Minehead, U.K.
more under TOUR NEWS
2010-April
The three ITALY SHOWS (Milan, Ferrara, Rome) have been canceled at the promoter's discretion.
This decision was not made by Daniel. Our apologies for those who purchased tickets. Any future trips to Italy will be through a more reliable promoter.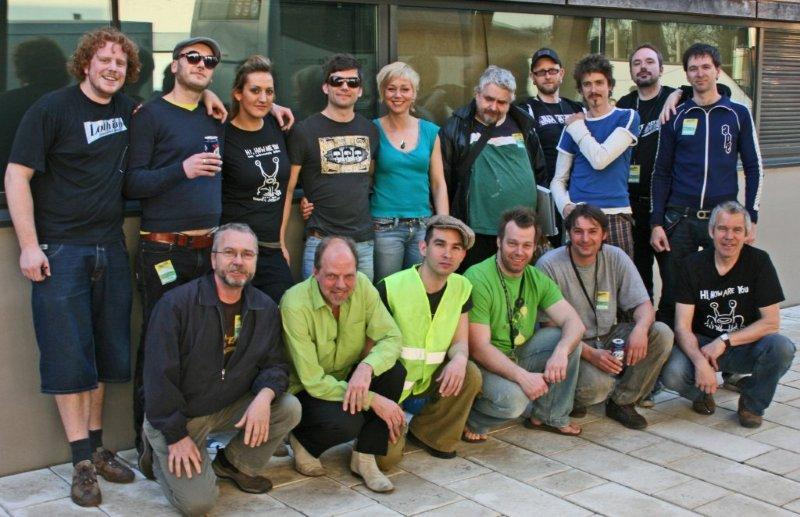 The B.E.A.M. orchestra and tour crew with Daniel April 2010
www.BEAM-orchestra.com
2010-March
Daniel Johnston and family are deeply saddened by news of the passing of Mark Linkous. Mark was a supportive friend and talented collaborator. Our prayers are with Mark's family and friends during this difficult time.

MARK LINKOUS dead at age 47


Daniel Johnston
B.E.A.M. Orchestra
European Tour
April 2010

(see TOUR DATES)



Apr 1 - Amsterdam
Apr 2 - London
Apr 3 - Dublin
Apr 5 - Berlin
Apr 6 - Frankfurt
Apr 9 - Oslo
Apr 10 - Copenhagen
Apr 11 - Aarhus
Apr 13 - Brussels
Apr 15 - Paris
Apr 16 - Fribourg
Apr 17 - Bourges
Apr 18 - Lille
Pictures and news from the AUSTRALIAN and JAPAN tours under TOUR NEWS
Jean_Paul DiSciscio's film SCATTERBRAIN featuring clips of Daniel's music now under FAN VIDEOS
2010-January
Daniel Johnston to perform at ATP Festival curated by Matt Groening in the U.K. in May, 2010.
MORE HERE
<< NEWER Featured News
OLDER Featured News >>