ARCHIVE FEATURED NEWS
CURRENT 2014 &nbsp 2011 2010 2009 2008 2007
2006b Jan-June 2006a July-Dec 2005c Sept-Dec
2005b Jan-June 2005a Jan-Apr 2004d Sept-Dec
2004c June-Sept 2004b Feb-May 2004a Jan
2003b Sept-Dec 2003a Jan-Sept
2008-December

2008-November
2008-October
NEWS
How messages are sent to Space
(and what might those messages be?)
See the BBC NEWS VIDEO HERE

Daniel's art featured in exposition
from nov. 18 to dec. 6, 2008
arts factory c/o espace beaurepaire 28 rue beaurepaire 75010 paris
http://www.artsfactory.net

See others under

EXHIBIT DATES



Recent Daniel song appears on Minnesota's "

Songs From Radio K

" compilation
RECENT RELEASES:

1990 / Artistic Vice DUAL LP - comes with download cards to download the digital albums including BONUS TRACKS available on CD and download only.
Fear Yourself LP - collectors 180g heavyweight 12"
1990 CD - with bonus tracks and liner notes by Kramer
Artistic Vice CD - also with bonus tracks and liner notes by Kramer
Rejected Unknown CD - the 1999 release produced by Brian Beatie that's been unavailable for years

Think PINK!
A pink version of the "Jeremiah The Innocent"
collectable toy frog is now available in our STORE
2008-September
2008-August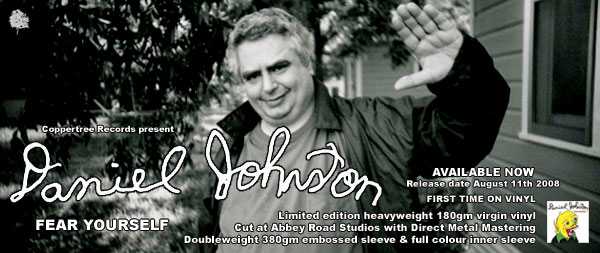 2008-July
PICTURES of the July tour of Daniel and Friends in FEATURED TOUR NEWS
2008-June
Second European tour (October - November) includes
The Netherlands, France, Switzerland, Germany,
Austria, Belgium, and Denmark
(Daniel will tour and play with John Dear Mowing Club)
TOUR INFO HERE
Never Relaxed: A Tribute To Daniel Johnston
June 28 in Morgantown, WVa MORE INFO HERE
June U.S. shows:
include New Haven, Brooklyn, Providence, and Philadelphia
with The Capitol Years, and


Richmond, Ashville, Nashville, and Atlanta


with The Hymns

Article "Daniel Johnston's Defeated Demons"
2008-May
July 2008 U.K./Europe/Ireland shows to feature block-buster backing band!
"An Evening with Daniel Johnston and friends"
Daniel's U.K., Europe, Ireland shows in July will be supported and backed by

Mark Linkous of Sparklehorse,
Scout Niblett with Kristian Goddard,
James McNew of Yo La Tengo,
Norman Blake of Teenage Fanclub and
Jad Fair of Half Japanese!
July overseas shows includes Sweden, Norway, U.K., and Ireland
Daniel's
"Jeremiah The Innocent"
collectable vinyl toy frog


11 3/4" tall

Article Here

AVAILABLE NOW WHILE THEY LAST!
Produced by AtArms (atarmsnyc.com) they are available in limited quantities from Daniel's web stores,ToyTokyo.com and CardBoardSpaceShip and others, including the Whitney Museum Of American Art store.

SIGNED VERSIONS are available in Daniel's web stores at a premium price.
2008-April
July U.K./Europe/Ireland shows to feature block-buster backing band!

Clip on Denver Show MORE recent photos and links under TOUR NEWS
MORE EUOROPEAN TOUR DATES COMING SOON!
2008-January
Speeding Motorcycle

A musical drama based on Daniel's music by Jason Nodler
at the ZACH SCOTT Theatre, Austin, Texas, Feb 14 - Apr 13

PHOTO GALLERY
from the show

Photo by George Hixon

• Featuring
CARY WINSCOTT,
KYLE STURDIVANT,
JOE FOLLADORI,
KATHY McCARTY, and GLASS EYE !!

ZACH Theatre's Kleberg Stage, the corner of West Riverside Drive at South Lamar, Austin, Texas

Conceived and Directed by Jason Nodler
Songs and concepts by Daniel Johnston
Music Direction by Anthony Barilla
Choreography by Andrea Ariel
February 14 - April 13
Kleberg Stage

This out-of-this-world rock opera takes its inspiration from cult figure Daniel Johnston, a singer, songwriter and artist who first gained recognition in Austin during the 1980s. Anyone who's ever enjoyed Johnston's music or drawings will want to catch this exuberant celebration of his unique creativity. The quirky love story coupled with Beatles-inspired music was a hit at Houston's Infernal Bridegroom Productions. The New York Times said "At a recent performance of "Speeding Motorcycle," scores of people were turned away at the door. Many moped around outside, hoping someone just might leave at intermission!"
N.E. U.S. tour dates UPDATED for February and April 2008 - see TOUR DATES
<< NEWER Featured News
OLDER Featured News >>