FEATURED NEWS 2011-2013
ARCHIVE FEATURED NEWS
CURRENT 2014 &nbsp 2011 2010 2009 2008 2007
2006b Jan-June 2006a July-Dec 2005c Sept-Dec
2005b Jan-June 2005a Jan-Apr 2004d Sept-Dec
2004c June-Sept 2004b Feb-May 2004a Jan
2003b Sept-Dec 2003a Jan-Sept
2013-January
Daniel in ARIZONA February 2 & 3 - see
TOUR DATES


Pigeons and Planes THE TEN BEST DANIEL JOHNSTON SONGS - see if you agree... HERE
2012-December
Daniel Johnston "The Story of an Artist" - video of December trip to Miami by Daniel E Amaya Llamas

2012-November
PHOENIX, AZ show canceled
-
Due to unforeseen circumstances The DANIEL JOHNSTON show at Club
Congress was cancelled, We are working to reschedule a date as soon as possible. Refunds are available at the point of purchase or you can hold on or your ticket and it will be valid for the make up show that will be announced shortly
2012-September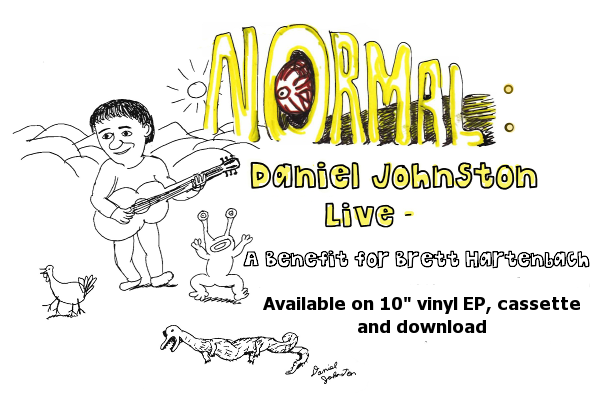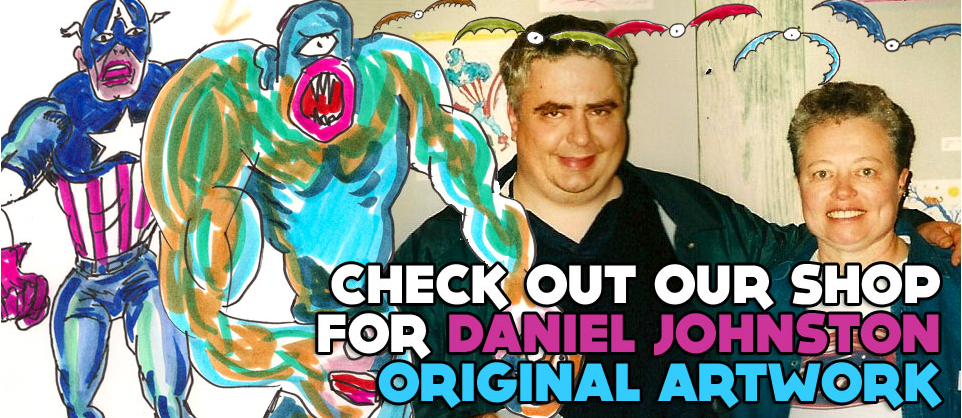 New source for original DANIEL JOHNSTON art!
www.YipJumpArtWorks.com
2012-August



"True Love" used in new Axe commercial!!

View it on


Daniel will be doing ANOTHER in-store "Space Ducks" comic books signing at Cactus Records in Houston, Saturday afternoon, September 8th, at 1:00 pm.
2012-July

Nina Ferraro sings "True Love"

Visual Arts Department, Western University and the McIntosh Gallery present a Ph.D. thesis exhibition featuring the work of Colin Campbell, Lisa Steele, Jaret Belliveau, Barbara Astman, Peter Kingstone and Suzy Lake.
Curated by Matthew Ryan Smith
July 19 - August 11, 2012
Opening reception: Thursday July 19 > 7:30 - 9:30PM

McIntosh Gallery, Western University, London, Ontario Canada
Gallery Hours: Monday, Tuesday, Wednesday & Friday: 10 A.M. - 5:00 P.M.
Thursday: 10A.M. - 8 P.M. / Saturday: noon - 4 P.M.

Daniel will perform at Fitzgerald's Houston Saturday July 14th with a band assembled to play with Daniel from Young Mammals, By the End of Tonight, Hearts of Animals, and sIngs.

Daniel will be doing an in-store at Cactus Records in Houston, Saturday afternoon, July 14, 3:30 pm before the show at Fitzgerald's .
2012-March
ART EXHIBIT - Houston, Texas - March 30
There is an EXHIBIT with Daniel Johnston art at Kallinen Contemporary Friday March 30-31 at 511 Broadway in Houston from 5 pm to 11pm. Daniel will make an appearance and sing some songs sometime between 7pm and 9pm. See EXHIBIT DATES

Daniel new COMIC BOOK, Album, and iPad App premiered at The Belmont in Austin, Texas March 13.

The iPad App as developed by Daniel's promotional agent, Weiden & Kennedy, and is available on iTunes at no charge. It cleverly and tastefully uses the ART from Daniel's comic book in animated clips and in interactive game levels, effectively giving the flavor of the comic book while featuring the music on his upcoming EP.

The SPACE DUCKS SOUNDTRACK is to be released April 3rd. It features five new songs by Daniel, and "Space Ducks" inspired songs written and performed by other artists such as

Made possible by a Kickstarter campaign, Kickstarter contributors will be getting their REWARDS this month.
DOWNLOAD "Space Ducks" the iPad App!! It's FREE!

Developed by Weiden & Kennedy
see more iPad Apps by Wieden + Kennedy =>
Download the "OTHER" iPhone / iPad app featuring Daniel's art and music "Hi How Are You"

the iPad app is free of charge in the App Store

It's HERE!

SPACE DUCKS!
SPACE DUCKS -


An Infinite Comic Book Of Musical Greatness


Daniel Johnston's first ever PUBLISHED comic book to be released at an event at SxSW March 13
at The Belmont, Austin, TX, available in stores in April.

The EP "Space Ducks" will be released at the same time along with some other surprises.... (stay tuned).

Official Press Release
Contributors to the campaign for this book will be the first recipients. Pre-orders will be accepted beginning March 1st at HiHowAreYou.com
2012-February
PRE-ORDER
your copy of

Space Ducks

NOW!
While supplies last shipments will arrive March 13 or soon thereafter


Comic Book Resources Article
The Beat article on Space Ducks
Valentines by
Hey Marseilles

Downloadable cover of
True Love Will Find You In The End
Daniel Johnston ART EXHIBIT
at Hutcheson Gallery on the David Lipscomb University campus, Nashville, Tennessee. There is an informative lecture about Daniel Johnston in the gallery at noon on Friday, Feb 10. Daniel will make an appearance at the gallery mid-afternoon. One hundred large pieces are on display.
For more information, visit
www.Lipscomb.edu.news/Event/Detail/2695
Exhibit dates: February 9-March 9

Friday February 10

Daniel Johnston in Concert
Friday, Feb. 10, 2012, 8:00 p.m.
Collins Alumni Auditorium
Lipscomb University
February 10, 2012
This concert is presented in conjunction with the opening of Daniel Johnston's solo art show in the John C. Hutcheson Gallery. The Hutcheson Gallery is located in the James D. Hughes Center on the Lipscomb University Campus.- see TOUR DATES and EXHIBIT DATES.

2012-January
Daniel Johnston brief performance at the Beauty Ballroom in Austin, Texas January 28th.
2011-December
Now through Christmas, when you purchase the (unsigned) Christmas Ornament or Refrigerator Magnet, with an ADDITIONAL $25 in purchases, receive a SECOND magnet or refrigerator magnet FREE. WHILE SUPPLIES LAST!
($25 of additional purchases does not include the ornament or magnet or shipping charges)

Daniel Johnston: Abstract Aesthetics
Daniel Johnston will be displaying his art work at BLAST Art Gallery in Teaneck, NJ, on Dec. 1. For more information, visit www.BLASTGallery.com.
2011-November
The Goodnight Fields
Official Website Facebook
Email Twitter
"Dear Laurie" - a song by The Goodnight Fields inspired by Daniel's store. Hear it under FAN MUSIC

Daniel Johnston's nephew,
Dick Johnston's son, Matthew
died Wednesday, November 9th.
He left behind his wife Megan Johnston, son Ramsey (2 years old), and daughter Riley (five weeks old).

Matthew Richard Johnston
Nov 18, 1987 -Nov 9, 2011

Friends, neighbors, and the church at Katy are invited to an OPEN HOUSE at Dick Johnston's home on 6117 Magnolia St following evening worship Sunday (7 - 9 pm).

Viewing will be at Schmidt funeral home, 1508 East Avenue, Katy, Texas 77493, on Monday, November 14th, from 6-8 pm.

The funeral will be at the church building on Tuesday, November 15th, at 10:30 am, with graveside services following on the Magnolia cemetery on Franz Extension Road.

We invite memorial gifts to be sent to the Katy church of Christ missionary fund, 5458 East 5th Street, Katy, Texas 77493.

FUND RAISER for Matt's family:

December 17 -

11 am to 5 pm

Papa's on the Lake

14632 Highway 105 West

Montgomery, TX
2011-October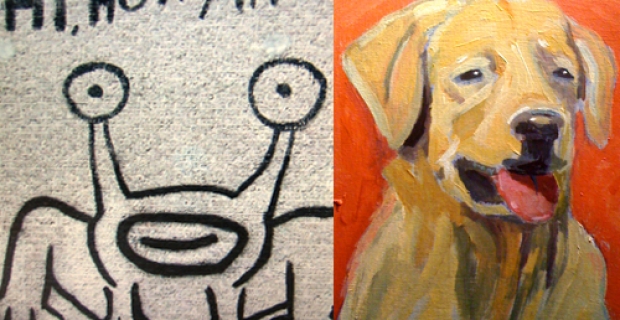 Austin Texas EXHIBIT:
Daniel Johnston & David Thornberry: Good and Evil
November 3 through 26, 2011
Opening:

November 3, 2011 | 6–8 pm




CANCELED - due to circumstances at the gallery beyond our control, this event has been canceled. Sorry if the announcement created any inconvenience.
2011-August
Wieden+Kennedy Entertainment is pleased to host

a live, intimate gallery performance by Daniel Johnston,

on Thursday, August 25, from 6:00 – 6:30 pm PST,

coinciding with the re-launch of Daniel Johnston's HiHowAreYou.com website.

The performance, which will also be streaming live here for all fans, culminates a month-long Daniel Johnston Art Show, "Space Ducks: An Infinite Comic Book of Musical Greatness,". The gallery show includes work from his upcoming comic book, as well as selections of his most popular previous work.

Hope to see you here!

Daniel Johnston :

Story of an Artist

An exhibition of outsider art.

Thursday 11th August thru

Friday 7th October 2011

Incognito Gallery, Five Stevenson Square, Northern Quarter, Manchester, M1 1DN
2011-July
Houston, Texas - Colton & Farb Gallery - Daniel will make an appearance at the exhibit this Saturday, July 9, from 6 pm to 9 pm.
"Live From Nowhere Near You: Vol 2 has been released (3 CDs, 210 minutes) and includes a track by Daniel Johnston

Pre-sale link is http://greydayrecords.com/050




Japon Record, a label from Buenos Aires, Argentina, released a Daniel Johnston tribute record. It features 34 songs from different artists of the underground local scene.

It can be downloaded and listened to here:
2011-June

www.wildernessfestival.com

A draft of Daniel's KickStarter project
"Infinite Comic Book Of Musical Greatness" is given a TEST AUDIENCE with 12 year old Andrew.

Yes, it's call "Space Ducks" and in it's current state stands at 65 pages from over 150 frames. About thirty pages are full page frames, and the rest are two to six frames per page.

It's happening! Thanks for your support on this project.
Daniel's will have an
EXHIBIT
at
Colton & Farb Gallery
July 9th, Houston, Texas
New FEATURED COVERS by Les Fleurs (MIND MOVIES), Lauren Smith (Peek-A-Boo), Museum Of Love (Fanqmon)
2011-May
Seven shows announced for summer 2011 - see
TOUR DATES
July 22 - El Rey - Los Angeles, California
with Jason Falkner (producer of Daniel's
last album "Is and Always Was."
July 23 - Daniel will be at ComiCon
July 24 - Thousand Oaks, California
Open Borders

Aug 12 - Manchester Cathedral - Manchester, U.K.
Aug 13 - Wilderness Festival - U.K.
Aug 16 - Sweden - Malmo - Debaser
Aug 17 - Sweden - Stockholm - Berns
Aug 19 - Norway - Oslo - Parkteatret

Aug 24 - Seattle, Washington
with Motopony
Aug 25 - Portland, Oregon with Motopony
Wonder Ballroom TICKETS
Aug 26 - Vancourver, Bristish Columbia with
Motopony TICKETS
2011-April
Brian Beattie (of Glass Eye, producer of several of Daniel's albums) is releasing an illustrated epic music audio drama "Ivy and the Wicker Suitcase." It includes Katy McCarty as well as Daniel Johnston and others performing as characters.

KICKSTARTER

The Austinist.com
2011-March
Apskaft Tribute to Daniel Johnston
"Experimental" covers of Daniel's music
by 21 Artists
See FEATURED COVERS
or DISCOGRAPHY
or Last.fm


Live interview with Daniel March 20th, 9 pm EST
Listen to it on:
www.pwhpradio.com
www.hussieskunk.com

GSDM lobby will feature 32 original pieces of art by Daniel Johnston in their lobby on 6th Street near Lamar in Austin Texas as part of the SxSW festival.
2011-February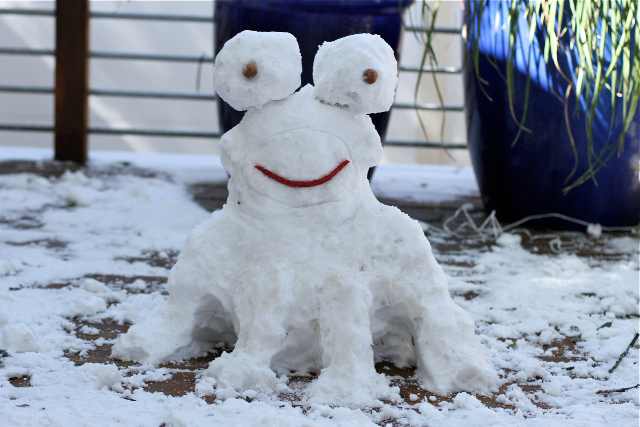 More images under FAN PHOTOS
2011-January
THANK YOU FOR A GREAT STREAMING RADIO KICK-OFF!
Hear MORE at RADIO.HiHowAreYou.com
See / Hear YOUR BIRTHDAY WISHES for Daniel HERE
Daniel Johnston's STREAMING RADIO is now playing 24/7 at

http://radio.hihowareyou.com



Daniel began his radio from Austin, Tx on Saturday January 22nd , performing several songs live, listening to BIRTHDAY WISHES from fans, and talking about the "early days" of songwriting. We will RE-POST a link to that show soon.

The STREAM will continue to play uninterrupted and will be routinely updated with interviews, live performances, guest-hosted-programs, and (the very best part) airing of many never-before heard ARCHIVE CASSETTE TAPES. There are literally HUNDREDS of songs, cassette tape letters, and cassette tape "shows" that Daniel had made over the years that have never been heard. He will also air some of his new stuff..

LISTEN IN as often as you like! Please HELP spread the news: POST THE RADIO LINK on your facebook, twitter, or other personal blogs! (

http://radio.hihowareyou.com

)
Daniel's 50th birthday is Saturday, January 22nd!

Check out the streaming radio at radio.hihowareyou.com (playing NOW!)

visit www.twitter.com/hihowareyou and follow events!

Join us in Austin, Texas
Jan 22nd 2 pm at 21st and Guadalupe Ave (the Hi How Are You WALL!)

Jan 22nd 8 pm LIVE GRAND OPENING of Daniel's STREAMING RADIO featuring Daniel Johnston broadcasting LIVE from Austin, Texas

Saturday, January 22nd at 21st and Guadalupe Ave, Austin, Texas

(the HI HOW ARE YOU wall!)
<< NEWER Featured News
OLDER Featured News >>