July 2006 - Dec 2006
ARCHIVE FEATURED NEWS
CURRENT 2014 &nbsp 2011 2010 2009 2008 2007
2006b Jan-June 2006a July-Dec 2005c Sept-Dec
2005b Jan-June 2005a Jan-Apr 2004d Sept-Dec
2004c June-Sept 2004b Feb-May 2004a Jan
2003b Sept-Dec 2003a Jan-Sept
2006-Oct-26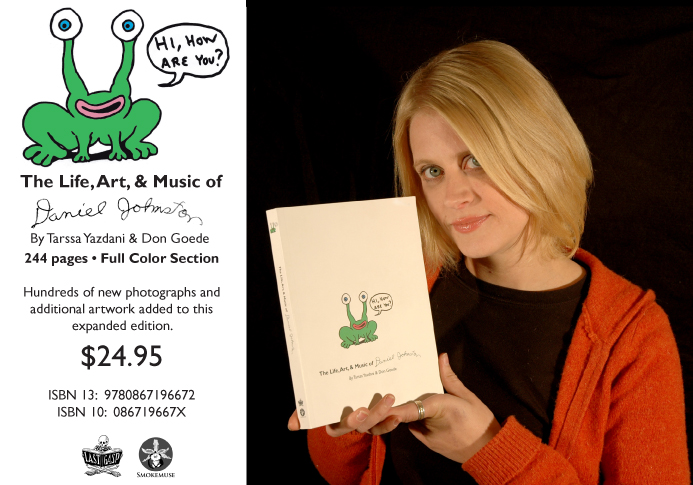 The book has arrived and is available in our store

Cafemono.no - Oslo, Norway - November 19 - Special screening of the movie and a covers concert following by Alphine Those Myriads and The Severed Headmaster.

ART EXHIBIT - Chicago, Illinois - Daniel and other artists November 3-28 David Leonardis Gallery River North VIEW FLYER HERE EXHIBIT DATES HERE

New feature on www.rejectedunknown.com: EVENTS - this will list notice of anything going on related to Daniel where he isn't present.

October 31, 2006 - Danny and the Nightmares do a Halloween night performance at Rudyards in Houston, Texas. TOUR

Now available for sale in our STORE
Releases November 1st. Orders placed before November 1st will be shipped from the first shipment.
2006-Oct-18
LUCCA Sings DEVIL TOWN ON NBC!! Tuesday, Oct. 10th: Tony Lucca's version of singer/songwriter Daniel Johnston's "Devil Town" will be featured on the new prime time hit series, "Friday Night Lights" ! The song will continue to be featured for some time in PROMOTIONS for the show.

Daniel's track on Exercise 1's benefit album "50 Minutes" is called "absolute diamond of this magic collection" at www.gigwise.com.

Photos from The SpeakEasy in Austin on Tuesday night:
http://picasaweb.google.com/victor.yiu/SoundcheckMagazineClatterheadHappyHour
2006-Oct-12
Daniel in Austin, Texas on Tuesday, October 17th

with One Mississippi

at The Speakeasy 7 - 9 pm

Hosted by High Wire Music

10 free passes - (closed) - drawing held on Monday evening 9 pm - winners notified by email.


(click to enlarge)

Daniel on set at Austin's METV with buddies Ken Leick and David Thornberry on Monday, October 11th. Daniel performed piano and guitar sets to an enthusiastic studio audience. The show will air on Austin's cabel METV in the near future.
2006-Oct-5
I Killed The Monster
Kramer's new label "Second Shimmy" releases new Daniel Johnston tribute album

Sufjan, Daniel Smith on Daniel Johnston Tribute Album


Kramer's Shimmy-Disc label returns as "Second Shimmy"

Video: Daniel Johnston: It's Spooky (Live)
2006-Sep-26
Saturday, September 30
8 pm $10 admission
Advance tickets strongly recommended
Tickets on sale at the Orange Show office, 2402 Munger and at Sound Exchange, 1846 Richmond.
Orange Show Center for Visionary Art
2402 Munger St.
Houston, Tx 77023
(713) 926-6368
Special appearance: Two Star Symphony
www.orangeshow.org

Daniel's art figured prominently in this year's Austin City Limits festival
2006-Sep-13
The Devil and Daniel Johnston - the DVD

for sale now in our store
begins to ship September 19

The DVD for sale in our store is a "region 1" DVD - designed for use in U.S./Canada.

To purchase a region 2 DVD for use in the U.K., see Tartan Video
Exclusive to Tartan Video is a Free T-Shirt when you order the DVD.

SEPTEMBER 26!!!
A special DVD release screening of
"The Devil and Daniel Johnston"
Followed by a Q&A with director Jeff Feuerzeig

And a tribute concert to Daniel Johnston featuring:

Biirdie

Espeleta-Schafer Project

legendary GARY WILSON

and other special guests.

Tuesday, September 26 at 7:30pm
New Beverly Cinema
7165 Beverly Blvd. (one block west of LaBrea), Los Angeles, CA
323-938-4038 box office
2006-Sep-7
2006-Aug-27
Daniel Johnston Art Exhibit
Los Angeles, California September 9 - October 14
Tom Wait's new triple CD "Orphans" is out, and includes his cover of Daniel's "King Kong"

More HERE
2006-Aug-22
Several great videos and a brief documentary on StudioMuscle blog

Desperate Man Blues
Walking The Cow
Museum Of Love
The Beatles
2006-Aug-14


Danny and the Nightmares slated to perform at Infernal Bridgegroom Productions on the last night of the Rock Opera.
Daniel opens for Sparklehorse in Houston, Texas on September 13th - the Proletariat.
Movie review in Australia's FilmLink
www.filmlink.com.au